Deal Analysis Seminar with Texas Title Research (Online Event)
August 27, 2022 @ 9:00 am

-

5:00 pm

$147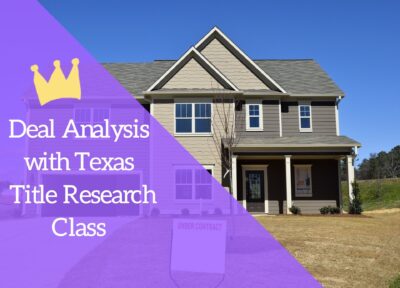 Description
Before you pay a dime to a seller, waste valuable time negotiating a deal, or spend thousands at the auction,  only to find out that the title is flawed, learn how to get ALL the facts.
Learn how to fix title issues, locate true property owners, run accurate comps, and discover the total debt owed on any property! Make a fortune on properties other investors pass up.
Our course will walk you through the process of doing a full title search on any parcel or property and is the perfect solution for INVESTORS to increase their knowledge on property PRIOR to purchasing real estate.  This is a procedure that, once mastered, can be applied to any type of real estate search or related field. Whether it be for Mineral Rights or Real Estate Title Researching, Foreclosures, your skills can save you millions of dollars and hours!
GAIN knowledge on the following:
Find out who is on the title

Find out if the title is really "clear"

Find out the total debt on the property
Find out if a seller is in bankruptcy

Increase knowledge on property BEFORE making a bid at auction

Avoid very costly mistakes

Save time & money

Evaluate deals

Discover and CURE title problems

Close more deals
Get trained by experienced Investors who know the business and can assist you in each step of the process. Don't  take anyone else's word for it; Become an expert in determining what REALLY makes a good deal!
About your instructors: 
Linda Muscarello is the Past President of the National Real Estate Investors Association, Past President of The Realty Investment Club of Houston, and Past Principal of the Realty Investment Community of Houston (RICH). Linda Muscarello is recognized as one of the leading experts in real estate investing. A well-respected speaker and award-winning mentor, Linda has almost a quarter of a century of real estate investment experience and loves to teach prospective investors her tried-and-true strategies for how to make money and keep it.
Leo Muscarello has been investing for over 16 years and has generated leads for his clients and for other investors. Leo is a title research master and has been curing title for his entire investing career.  When you need someone to come in and maximize your business potential, Leo is the one to call.
HOW TO ATTEND:
When you purchase your ticket, you will receive an e-mail titled "Your Linda Muscarello – Queen of Foreclosure order has been received!" This e-mail will be sent from Queen of Foreclosure info@queenofforeclosure.com. THIS E-MAIL WILL CONTAIN A LINK URL in the NOTES section. That link will direct you to the webpage with all the attendance details, as well as links to the Zoom meeting registration and the location of all the documents for the class. You will also receive an e-mail that contains your "tickets".
If you are subscribed to our mailing list, you should receive the attendance information in a separate e-mail after purchase, as well.
If you have any difficulty with registration or any questions, please contact info@queenofforeclosure.com
I look forward to talking with you all.
Best,
Queen of Foreclosure
Linda Muscarello