Fortunes in Real Estate 3-Day Event
September 29 @ 9:00 am

-

October 1 @ 5:00 pm

$297.00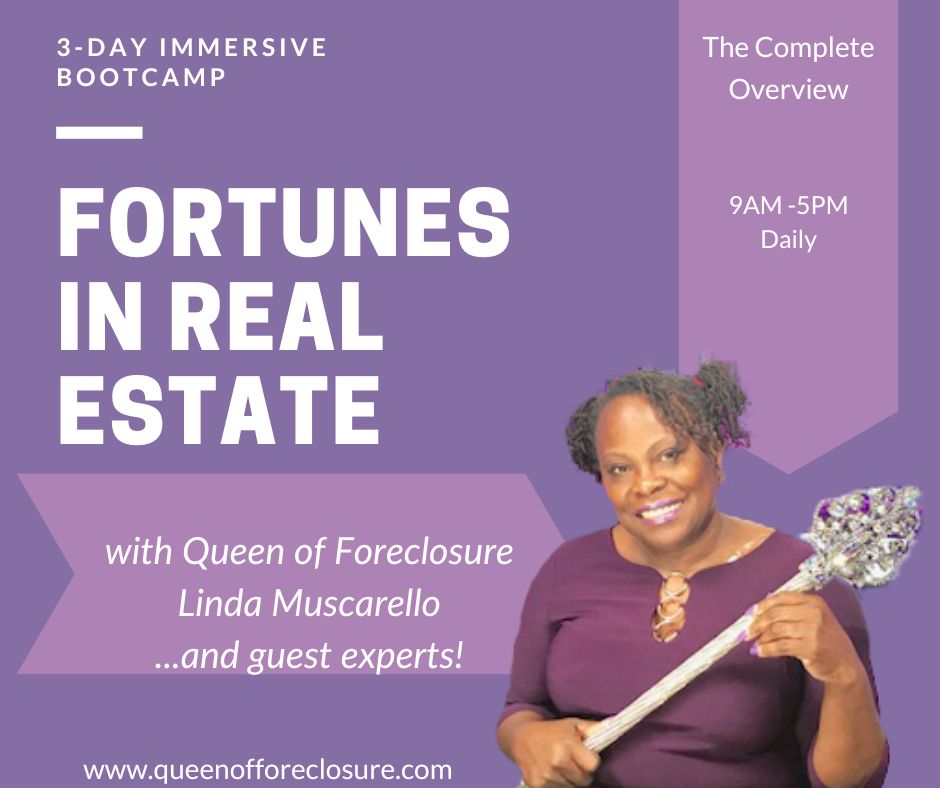 *This event can be attended in-person or online*
This event is an all-intensive, no-holds-barred workshop where LOCAL EXPERTS hand you rock-solid, proven-to-work wholesaling, rehabbing, and buy-and-hold real estate investing strategies that can make your deals a tremendous financial success!
Featuring:
   ⚬Linda Muscarello & Leo Muscarello, Queen of Foreclosure
     ⚬Jonathan Driver, Zeus Lending, Funding Expert
 ⚬Jim Weidemer, Legal Expert
     ⚬Reggie Harris, Assistant Director Department of Neighborhoods, City of Houston
..and more!
No hyped up baloney…no sales gimmicks…no fluff. Just some of today's most successful real estate investors leading you step-by-step through each process, giving you the tools you'll need to make a fortune quickly and easily in today's real estate market.
Learn HOW to"
⚬FIND leads
⚬FUND deals
⚬FIX properties
and
⚬FINISH for profits!
You'll receive hands-on training in the all-important behind-the-scenes aspects of real estate success. These are the very things that separate successful investors from the wannabes, such as:
The Secrets To Getting Sellers to Sell Their Home:

The big players don't want you to know these hidden strategies and scripts because they'll suddenly have loads of competition. But we're ripping the cover off and revealing them to you at the this Event.

Under-The-Radar Street Smart Investing Rehabbing Techniques:

For most people, it takes years to acquire this knowledge. We're blowing the learning curve right out of the water and taking you from pupil to pro.

How To Shatter Mental Barriers:

The hands-down #1 reason that most people don't succeed in real estate…and the simple, hassle-free ways you can break those bonds forever.
This is an immersive event that can skyrocket your real estate investment earnings. Are you willing to take action or will you let this opportunity pass you by?
Register now to lock in your seat.
PLUS!!!
Smokin' Hot Bonus #1: Power Pack – Homeowner Talk the Talk Script, Hot Deal Closing Checklist. Are you stuck? Still struggling to make this real estate thing work? This special bundle is your opportunity to get the true tools to make the leap from the classroom and get in the game of REAL House Flipping!
Smokin' Hot Bonus #2: In-Class Master Mind – This Special Help session is your rare opportunity to let your specific real estate investing needs be known and get expert feedback as well as peer interaction.
Smokin' Hot Bonus #3: FREE Giveaways Every Day. We're going to do our best to not only load you up with a head full of wealth building strategies, but we're bringing a whole bunch of freebies as well –you don't want to miss it! All these bonuses are included with your registration price.
Linda & Leo will pull back the veil and tell you what the real estate investing "gurus" won't!
Event Schedule:
Friday, September 29, 2023
Mastermind & Introduction
Saturday, September 30, 2023
Finding: Lead Generation & Contacting Homeowners, Funding
Fixing, Finishing
Guest Speakers
Come learn their secrets for success today and start advancing your career today!
HOW TO ATTEND:
In-Person Location:
17171 Park Row
Houston, TX 77084
Online Access:
You will receive your online meeting links when your purchase your tickets.
If you have any difficulty with registration or any questions, please contact info@queenofforeclosure.com